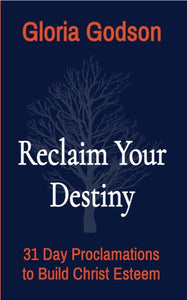 The word of God, spoken in faith, is the most powerful weapon known to man. This book empowers you to boldly take hold of the word of God, mix it with faith in your heart, and launch it forth to achieve the plans and purposes of God for you and your family. The proclamations in this book have been scripturally composed and specifically adapted to execute a dramatic self-redefinition that will forge a brand new destiny for you.
These proclamations will challenge every voice speaking from your bloodline or human ancestry, revoke every legal right claimed by the devil to take you captive, break the power of demonic bondage and oppression in your life, and bring you out of captivity into divine destiny and purpose.
These proclamations will help you to reclaim your divine destiny, and bring it into physical manifestation.